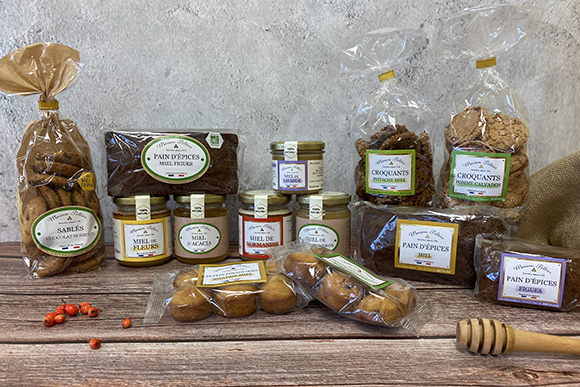 Beekeeper since 1946, Maison Peltier is committed to offering quality honeys through a wide range of monofloral honeys, with unique flavors, colors and textures. Noble ingredients, 100% natural and unpasteurized, Maison Peltier honeys highlight the work of partner beekeepers who perpetuate a traditional and unique know-how.
Maison Peltier is also gingerbread, honey-based cakes and cookies. Indeed Maison Peltier is committed to gluttony and the pleasure of the senses. Maison Peltier sweets are French ingredients, mostly local (-50km from the workshops). They are also short recipes, without coloring, without preservatives and without palm oil.
Our Commitments 
REGIONAL ORGANIC BEEKEEPER
We are a Regional ORGANIC beekeeper and we energize the organic beekeeping through a partnership with our beekeepers.
Partner of the first beekeeping school with an organic option in Nantes.
BEE PROTECTION AND SUSTAINABLE BEEKEEPING DEVELOPPEMENT 
Fair long-term remuneration for our beekeepers 
Free provision* of services of our honey house (beekeeping material) 
ARTISANAL HANDCRAFT HONEY CAKE 
French ORGANIC honey cake range 
Pure Honey gingerbread range with no added sugar 
* For our beekeeping partners